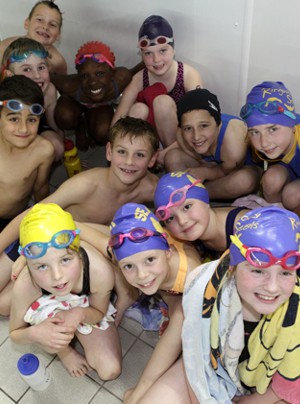 Welcome to Ringwood Seals Swimming Club! Our aim is to coach swimmers to achieve their potential in a competitive swimming environment but also in a friendly and supportive atmosphere. We want our swimmers to not only improve their skills but also to make new friends.
The Club has been in existence since 1928. Back then, swimmers trained in the River Avon! Fortunately, these days, we have the modern facilities of a heated 25m pool at Ringwood Health and Leisure Centre (Hampshire, UK). Ringwood Seals is independent of the Centre and is run entirely by volunteers: parents, former swimmers and enthusiasts. It has strong links with the Centre's Swim Academy, local schools and other swimming clubs in the area.
The Club is affiliated to the Amateur Swimming Association (ASA). Training is supervised by ASA qualified teachers and is geared towards achieving stamina, speed and good technique. Swimmers are grouped according to ability rather than age. Training takes place on Tuesday and Friday evenings and on Sunday mornings. We accept swimmers from age 5 and upwards and aim to give them all the skills and techniques they need to make them good, competitive swimmers. We have a thriving club with 100+ swimmers all regularly taking part in galas and local league meetings.
---
Introducing Anne: Local Hero
Anne Nugent is the Director of Swimming at Ringwood Seals Swimming Club. With her inspirational outlook and devotion to helping others, Anne was the regional finalist for the prestigious BBC Unsung Hero Award in 2011's Sports Personality of the Year. She was also selected to carry the Olympic torch through Christchurch. This short film, shown on BBC's "South Today", introduces Anne and shows the older Seals in action.
We are always pleased to hear from new swimmers so if you are interested in joining our Club please have a look at the Joining page or contact Anne directly.
---
Meet our Members